Live Music and Live bands at the Cabana this week.
THURSDAY
8PM
Wellington experimental rock duoINTO ORBIT are a dynamic duo of guitar and drums whose immersive, genre-defying sound contains aspects of post rock, prog, metal, ambience and drone. They independently released their debut album Caverns in August 2014, earning them high praise from critics and fans alike.
THE MOA BELT …… are a FUSHION JAZZ project that has to be heard to believe…. featuring Mr Kurt Yates  SUBLIME!
EJ THORPE is a stunning artist who plays an amazing sound scape with a loop pedals with an other worldly presence. A standing ovation on her debut ! Beautiful.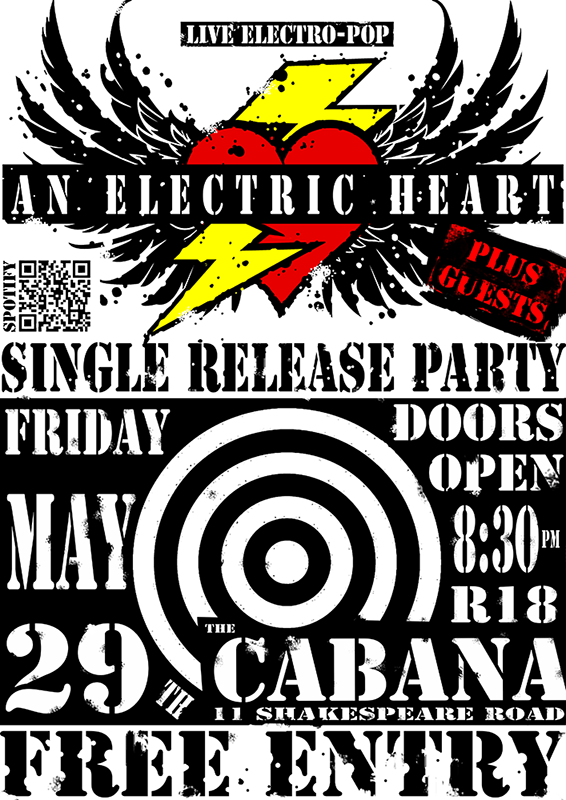 AN ELECTRIC HEART
WITH
ILLEVILHATER.
An Electric Heart is the solo project of Napier based musician/singer Luke Pell. An Electric Heart's sound is described as 'alternative pop' (think PET SHOP BOYS with edge). Pell is currently gearing up to release his second full length album (Due out mid-way through 2015) under the pseudonym An Electric Heart.
https://www.facebook.com/anelectricheart/app_204974879526524
ILLEVILHATER is serving up sounds like a mad killer on the loose serving up bodies. Step into the mind of a lunatic with lyrics exploring many horror themes.
http://www.reverbnation.com/illevilhater
GOLD COIN ENTRY